We are excited to announce a significant enhancement to our digests: the integration of cutting-edge GPT-technology with our intuitive timeline visualizations. This advancement is a testament to our ongoing commitment to delivering valuable insights on demand.
What are the benefits?
NewsWhip data meets AI: The AI Digest combines the dependability of NewsWhip's trusted data with the speed of GPT insights, providing you with immediate context on a broad range of topics.
Rapid insights for busy people: Designed for those who need to keep up with the latest trends and topics quickly, the AI Digest offers an efficient solution for gaining a high-level snapshot and understanding of evolving subjects and their broader implications.
Your own personalized assistant: Tailored to your schedule, the AI Digest acts as a personal aid, delivering key insights and essential discussion points directly to your inbox exactly when you need them.
How does it work?
The AI Digest consists of two optional settings that can be found and enabled in our existing Alerts & Digests area. These can be created from any search on a dashboard. Both options will appear when Digest is selected with the Web network.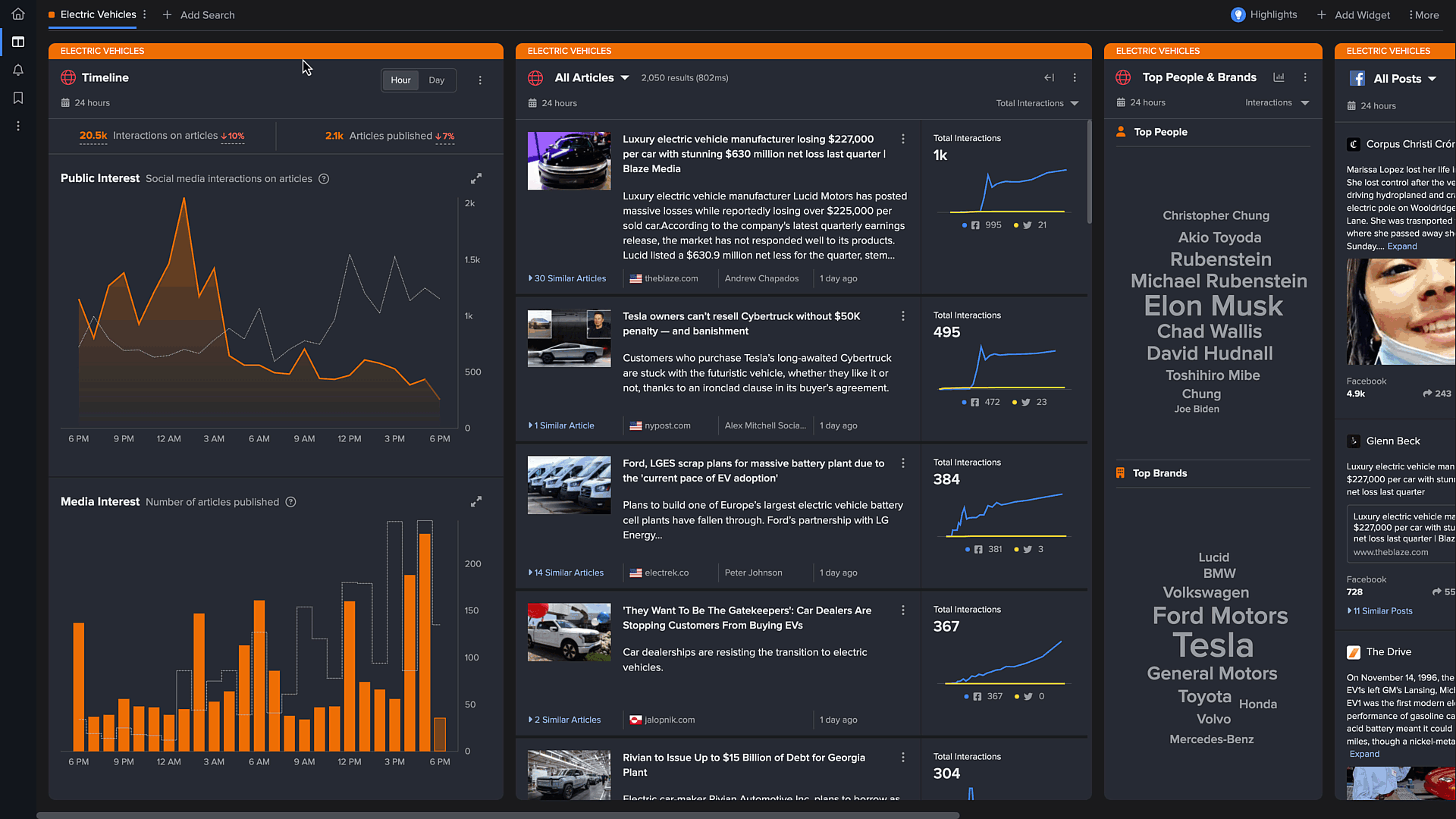 AI Generated Themes: This is where we use GPT-technology to group similar articles, resulting from your search criteria, into summarized themes for the digest. This option can only be enabled if the language selection for your search is either All Languages or English.
Include a timeline visualization: This option incorporates our timeline visualization of public and media interest along with displayed changes compared to the previous period. These graphs will appear at the top of any delivered digest and can be included without the AI generated themes if desired. There are no language restrictions.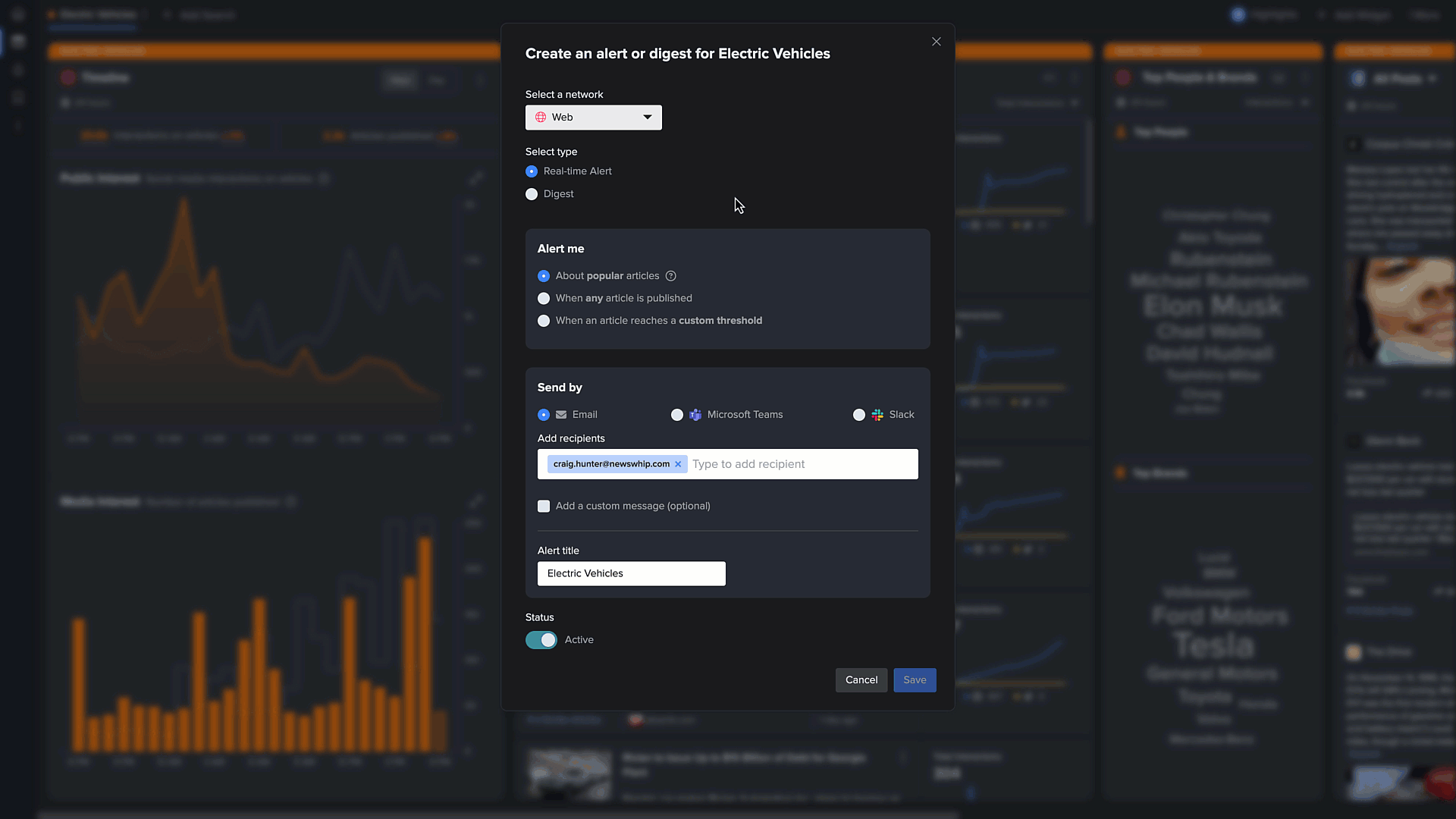 Every user has different needs and preferences, so we've made the AI Digest as flexible as possible:
Frequency: AI Digests can be sent either Daily or Weekly with the option to select delivery in 30-minute intervals on any day you prefer.
Metric selection: You can choose to order articles included in the digest by Predicted Interactions, Highest Velocity, or Total Interactions.
Add recipients: You are able to add third-party email addresses for AI Digest delivery. However, due to the nature of the technology, we recommend you review the digest content first before scheduling with others. There is also the option to include a custom message allowing you to explain your search criteria and that the digest is generated by AI.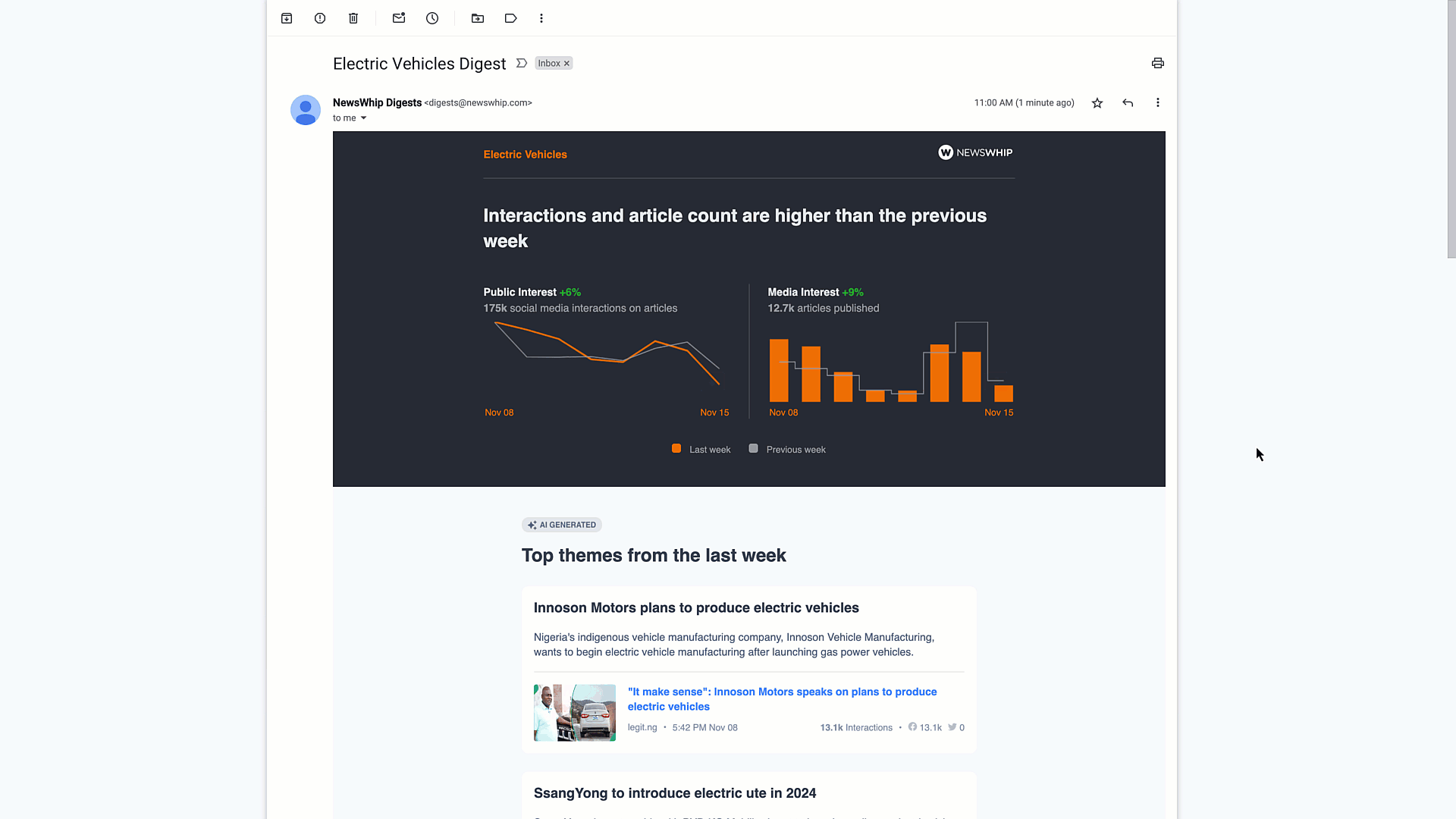 All digests will be delivered into the inbox of the email addresses provided at the scheduled time.
NewsWhip's application of AI and GPT-technology
NewsWhip adheres to the guidelines set by the CIPR, reflecting our commitment to upholding the highest standards of ethical AI. use
FAQs - technical and privacy concerns
Q: What is the AI in AI Digest? What technology is used exactly?
The AI refers to the artificial intelligence utilized by GPT-technology. This is a language processing AI developed by OpenAI, designed to understand and summarize text efficiently and accurately.
Q: Is my data privacy protected when using AI Digest?
Yes, the GPT-technology used in AI Digest is inherently designed not to retain any personal data during its operations. This guarantees that all language processing and summarization tasks uphold stringent privacy and confidentiality standards. Furthermore, only public data is shared with OpenAI. This includes the headlines and summaries of articles. We do not share or store any personal, company-specific, or search-related information.
Q: Does the AI used in AI Digest learn from my data?
No, the AI is a stateless model and does not learn from or retain any data from your searches. This is a deliberate measure to prioritize the security of your data.
Q: What version of GPT do you use for AI Digest?
We utilize GPT-3.5 Turbo as we believe it offers the best compromise between response quality and processing speed, as determined by our thorough testing.
Q: How does the GPT-technology summarize articles? Does your prompt use grouping/gathering or clustering/keyword matching?
The method we use is neither strictly topic grouping nor clustering/keyword matching. Instead, our approach directs the model to identify the 2-6 most significant developments or themes within the content. This strategy is designed and optimized to excel in various scenarios.
FAQs - usage and reliability
Q: What should I do if I find irrelevant themes in my AI Digest?
Refine your search parameters to improve the relevance of the themes as the digest is generated from these results. On a positive note, this can be seen as a learning opportunity to improve your search criteria as the digests may bring to the surface some irrelevant data captures which could impact metrics elsewhere on your dashboard.
Q: What should I do if I find inaccuracies in the AI-generated summaries?
Please check the source articles linked to each theme for verification. If inaccuracies are detected, please report them via our feedback system. Please keep in mind that occasional errors are a known and expected reality for this technology.
Q: What happens if the AI Digest misses important stories?
The 'Also in the news' feature ensures that you don't miss out on significant stories. It includes top articles from your search that may not have been summarized in the main digest.
Q: Can I opt out of the AI feature in my digest?
Yes, the AI feature is optional and needs to be enabled by the user. You can choose to receive standard digests without AI-generated content.
Q: Why did I receive top articles instead of an AI-generated digest?
This happens when the AI-generated summary does not meet our quality standards. Our fallback protocol ensures that you still receive the most accurate information through the top articles. Refining your search may result in better-generated digests.
FAQs - adaption and support
Q: Which networks work with the AI Digest features?
Web only.
Q: What languages does the AI Digest support?
AI Digest is currently optimized for English language content only. While it can work with searches in All Languages, theme generation is limited to English content for now.
Q: How often can I receive AI Digests?
You can choose to receive your digests daily or weekly, with the option to select delivery in 30-minute intervals on any day you prefer.
Q: Does the 'Order articles by' setting change the digest content?
The selected metric influences which articles are included in your digest, but does not alter the sequence of articles within the digest itself.
Q: Can I send AI Digests to others such as my team members?
Yes, AI Digests can be sent to colleagues or shareholders. We advise reviewing the digest content before sending and noting to recipients that summaries are generated by AI.