Important note:
This integration is currently in a closed beta and only available to publishers.
We're excited to announce a new collaboration with LinkedIn.
With over 67 million Company Pages and a global community of over 985 million professionals, it's safe to say that LinkedIn is the platform for business and industry conversations, and through a closed program with LinkedIn, NewsWhip now captures and surfaces insights from the LinkedIn Company Pages directory.
This new feed widget will provide real-time insights into trending topics on all Company Pages.
What are the benefits of this widget?
Trend spotting: A quick search offers insights into content and Company Pages steering the professional discourse. Observe notable engagement in evolving topics, identify emerging narratives, and stay updated on industry trends. This helps in anticipating and addressing industry changes as they happen.
Content strategy: Harness LinkedIn to refine your content approach. Browse top posts to understand prevailing dialogues - from DEI and sustainability to the future of tech. With a grasp of resonating themes, it's easier to pinpoint content ideas that align with audience interests. Journalists can also source quotes, videos, and diverse views for their articles.
Benchmarking: It's crucial to know where you stand among other voices and competitors - and what formats, topics and voices are working for them. Now, you can benchmark any set of business and publisher pages, uncover best practices, and improve your strategy. Analyze who's getting it right, which topics are resonating, and ensure your content is not just part of the conversation, but leading it.
How does it work?
As you may know, content feed widgets can be added to any dashboard. LinkedIn is the latest addition to this ever-growing library of networks which includes Facebook, Twitter, Reddit, and YouTube to name a few.
The default widget is for Web Articles, but all other widgets can be added from the Add Widget button. Select the new LinkedIn Posts option from the menu to add it to the dashboard.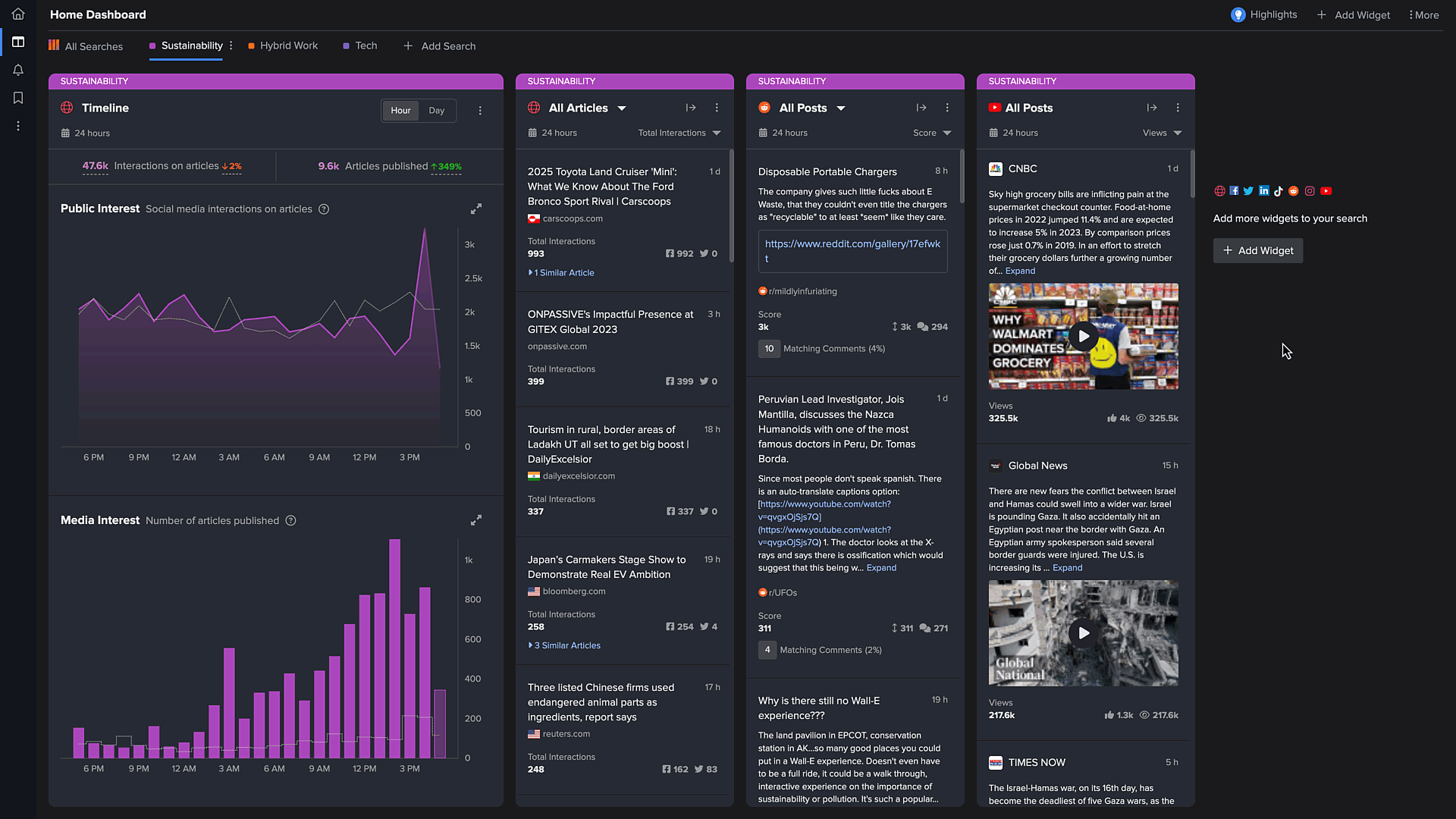 The LinkedIn widget works similarly to the other feed widgets. All posts related to your search will be displayed. The widget can be expanded to view more information and the time range selected from a variety of options.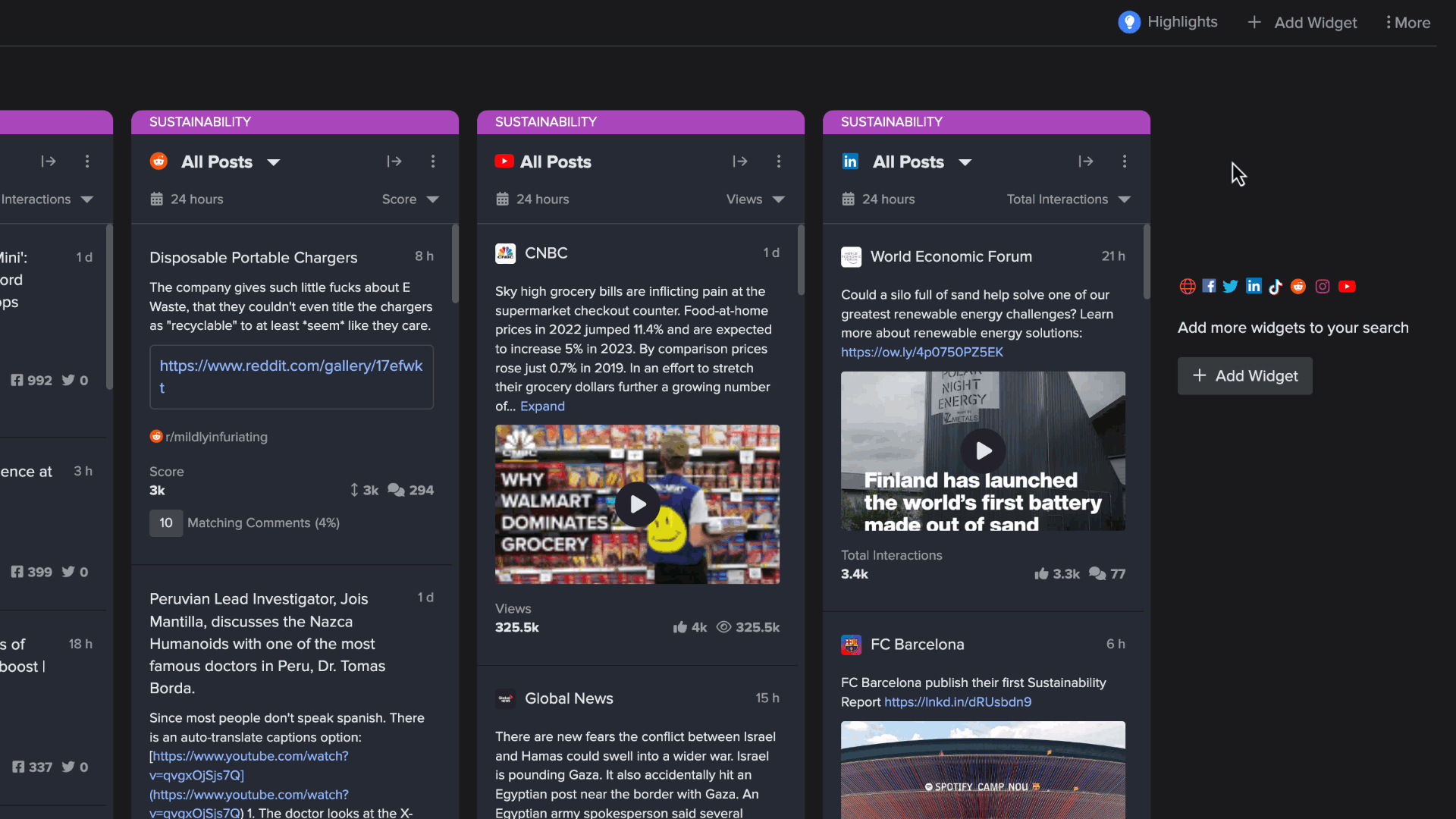 The metrics include total interactions, comments, and reactions. The posts can also be ordered by the most recent. The posts can also be sorted by type including all, image, video, link, or status.
Questions and answers
Q: Can NewsWhip Spike access all LinkedIn Company Pages?
Yes, NewsWhip Spike has access to all Company Pages on LinkedIn.
Q: Can a LinkedIn Company Page be chosen in Search, akin to selecting a Twitter/X profile or Facebook page?
Yes, users can select LinkedIn Company Pages from within the Search function.
Q: How are these Company Pages sorted within the Search function?
Company Pages are systematically arranged based on the number of their followers, starting from the highest.
Q: Can you search for hashtags on LinkedIn similar to how it's done on Twitter/X?
Not quite. While a keyword search on LinkedIn will include related hashtags, for instance, searching for "environment" will fetch posts tagged with "#environment", directly searching using a hashtag might not yield all relevant results.
Q: When are posts detected and what's their update frequency?
Posts are identified within 60 minutes and they're updated on an hourly basis for the first 14 days after they're posted.
Q: Does the widget identify posts when a company shares a person's content?
No, not currently. It primarily recognizes company-initiated posts, be it text, links, videos, or images.
Q: What's the volume of posts that are captured and the historical range of this data?
The system captures all public content from Company Pages. This encompasses all content from 25th September 2023 which was the past 30 days leading up to the release. It will also capture up to 10 additional posts going back to 1st July 2023.
Q: I saw a post on LinkedIn, but it doesn't appear in NewsWhip Spike?
Generally, this would be because the post was targeted such as to a specific location, seniority or industry. NewsWhip Spike will show all public posts.
Q: What's the procedure for incorporating new Company Pages into NewsWhip Spike?
Active Company Pages that frequently post content will be showcased in NewsWhip Spike once they make their way into the LinkedIn Companies Directory.
Q: Will LinkedIn data be available in Highlights?
Yes, LinkedIn data is included in the Change in Interest highlight. Read more about this feature here.